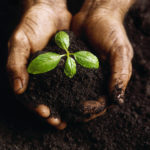 We all enjoy new things, who doesn't? We enjoy keeping up to date with the latest technology and devices. If we don't have it, we want it! If we are able to do so, we get it. In a matter of months there will be a new and better device.
But what happens in our personal lives? 
In my experience life tends to clutter with busyness and we become weary both spiritually and physically. The solution is not always a vacation nor to buy the latest things on the market, though we certainly enjoy those. It is to be in the Lord's house with His people; that causes new strength to rise up when it may have seemed like life was withering away.
If a flower is not watered it, will wither away. As it is nurtured it brings forth new life in the flower, new petals begin to bloom and the beauty begins to shine.
"Remember ye not the former things, neither consider the things of old. Behold, I will do a new thing; now it shall spring forth; shall ye not know it? I will even make a way in the wilderness, and rivers in the desert." (Isaiah 43:18-19 KJV)
To be in the Lord's presence I have found not only nurtures our spirit but also restores life within us. The strength we didn't have a day ago, He restores as new. The battles of today, He resolves in ways which seem impossible.
The lady who had the issue of blood for 12 years, "… said within herself, If I may but touch his garment, I shall be whole," (Matthew 9:21 KJV) and as she did so she was made new! Only Jesus has the power to do so!
Let us not look to things of the world, but be reNEWed by the power of the Holy Ghost, that ALL things may be made new. Jose R.