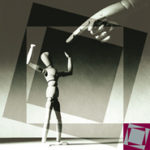 "In God I will praise his word, in God I have put my trust; I will not fear what flesh can do unto me." Psalm 56:4
Lately, a song has caught my attention; it's words flow something like this:
"…The giants calling out my name and they laugh at me, 
Reminding me of all the times I tried before and failed.
BUT…the voice of TRUTH, tells me a different story.
The Voice of Truth says, "Do not be afraid".
The Voice of Truth says, "This is for my glory".
Out of all the voices calling out to me,
I will chose to listen and believe – the Voice of Truth." (by Casting Crowns)
If you could picture me standing in a field; I am surrounded in a circle, on all sides by giants. There are many different giants on this battlefield. Some rise up so tall, their shadow casts a dominating figure across me. The walls of stress have reached so high; I haven't seen the other side of their fence in quite some time.
I feel so small. So alone. So helpless.
Alas, I am covered – under an impenetrable shield – guarded by a hand so mighty and a truth so strong, my mustard seed faith takes control.
I have been reading Old Testament scripture and I see great victories won in battle by the Lord. He fights for His people. In His Word are many precious promises. And each time I receive one, I clutch it tight, I hold it deep in my heart and I doubt not that my God is a deliverer!
Never am I alone in battle. Let the arrows fall where they may! I am undaunted in the strength of my Lord. For I know the battle is His to fight for me.
My hand puts down my feeble weapons of flesh to take up a shield of faith and stand under the shelter of my buckler – my horn of salvation.
The circle is – large; the players — great giants; and I – but one woman with the strength and power of an unseen hand do…STAND.
"Ye shall not need to fight in this battle: set yourselves, stand ye still, and see the salvation of the LORD with you, O Judah and Jerusalem: fear not, nor be dismayed; to morrow go out against them: for the LORD will be with you." 2 Chronicles 20:17
What victories are mine to be won?! They are many, and I fight this fight – with FAITH.
"…For I KNOW, in Whom I have believed – and am P-E-R-S-U-A-S-E-D, that HE IS ABLE, to keep that which I have committed unto Him against that day!" 2 Timothy 1:12 [Emphasis is mine]
"We are troubled on every side, yet not distressed; we are perplexed, but not in despair; Persecuted, but not forsaken; cast down, but not destroyed." 2 Corinthians 4:8-9
Marcella Williams